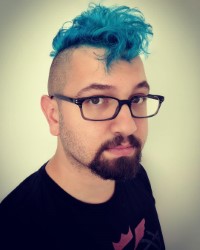 Charlie Maybee is a dancer, musician, and writer currently based in Winchester, Virginia who specializes in tap dance. He holds an MFA in Dance from the University of Illinois at Urbana Champaign (UIUC) with a certificate in Criticism and Interpretive Theory, and a BFA in Dance and Choreography from Virginia Commonwealth University (VCU).
As an educator, Charlie has taught at the University of Illinois Urbana-Champaign, American University, and is currently on faculty at the Shenandoah Conservatory (SU) where he primarily teaches tap dance technique, choreography, history and improvisation.
As a musician, he is a multi-instrumentalist and songwriter for a variety of projects. In 2019 he founded the DMV rock band, The Aftershakes, and in 2020 he began a solo music project, Nox Eterna. Over the last 7 years, he has also played drums, guitar, and piano as an accompanist for dance classes at various universities and festivals such as the UIUC, SU, American College Dance Association Conferences (ACDA), and Regional/National High School Dance Festivals.
In 2014, he founded Polymath Performance Project (PPP); a collective of dancers, musicians, and actors who make interdisciplinary performances that highlight experimental approaches to tap dance technique and composition. His current choreographic research explores hybrid identities and object-oriented ontology from a tap dancer's perspective. This coming October he will be presenting his first professional research paper titled "Tap Dancing Cyborgs: An Object-Oriented Approach to Performance" at the 2021 Dance Studies Association Conference. In February 2021, PPP will present it's first commissioned work for the annual BlackLight Summit at the Clarice Smith Performing Arts Center.